Feedback session with Exchange students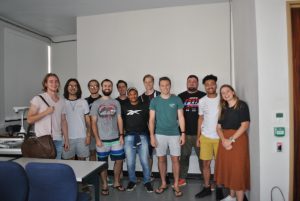 Stellenbosch University students, while they remain enrolled, are given an amazing chance to do course work which corresponds with ours at a partner University. There are more than a 100 institutions participating worldwide. The exchange programs are coordinated by our Faculties and the Stellenbosch University Global Centre.
Prof Schreve received vigorous feedback from this group of Mechanical & Mechatronic students who spent a semester in 2019 at Engineering Faculties of NC State (USA) and various research or technical universities in Germany.
The group gave sound advice for students who wish to take part in future exchange programs. They enthusiastically shared their experiences which included how to overcome language barriers, adapt to the size of classes, travelling, applying for internships with companies, teaching methods and exams. It was encouraging to hear that student communities in both countries offered great support and where necessary assisted our students. The session was attended by Ms Sarah van der Westhuizen, Manager of the SU Global Centre, who highly appreciated the feedback and will ensure an improved experience for future exchange students.
Overall, the exchange was positive, fun and an experience that they will treasure for life.