Engineering responds to the National Ventilator Project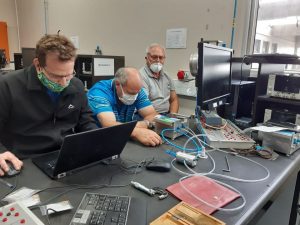 In picture above, our team busy testing components for a prototype ventilator, from left to right: Mr Japie Ludick (SKA), Mr Ferdie Zietsman and Mr Cobus Zietsman.
With only 6000 ventilators on hand in both private and public hospitals at the onset of the Covid-19 pandemic in South Africa, and global demand from suppliers at an all time high, the Department of Trade and Industry urgently launched The National Ventilator Project (NVP) to rapidly develop and produce ventilation solutions locally.
Many industry partners, including our team at Engineering responded to this joint initiative between government and business to produce a non-invasive ventilator as soon as possible. Specific requirements by clinical teams were requests for a simple, non-invasive design and that the ventilator does not use electricity; also that it did not have the complexity of intubation which slows down manufacturing. Further, that the ventilator mixes pure oxygen with air and helps to get that into the patients' lungs by delivering it at a higher than ambient pressure. Their aim of keeping it simple is to manufacture at least 10 000 more ventilators by the end of June to meet the expected demand for Covid-19 sufferers who may need hospitalisation.