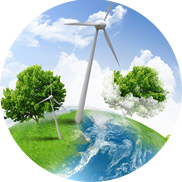 Fundamental to a modern society and a globally competitive economy is environmentally responsible and sustainable energy generation. In close collaboration with the Centre for Renewable and Sustainable Energy Studies, the department contributes towards fundamental research into a wide range of energy generation technologies. Addressing our transport needs, the group investigates the performance and impact of biofuels and blends in compression-ignition and spark-ignition engines. Uniquely South African solutions to concentrating solar-thermal power and energy storage systems are researched.
The group's world-leading research in air-cooled heat exchangers and cooling towers is well known. The group can test fans, heat exchangers and cooling tower fills to international standards. This experimental capability combined with strong computational expertise enable the group to develop special fans, compressors and turbines, e.g. industrial applications, but also ocean current, wind, and solar energy exploitation-, and air-cooled systems. Two phase flow expertise has attracted the nuclear industry's interest with the application of heat pipes as passive heat transfer devices. Research covering the energy efficient design of ship propulsion, ship hulls and various turbomachinery is supported by the only 90 m long towing tank in Southern Africa.
Solar thermal energy research group (STERG)
STERG is a research group housed in the Department of Mechanical and Mechatronic Engineering and affiliated with the Centre for Renewable and Sustainable Energy Studies, the national academic hub for renewable and sustainable energy. STERG was the first university research group in South Africa dedicated to solar thermal energy research*. Our primary mission is to train students and deliver research outputs in Concentrating Solar Power (CSP).
Centre for renewable and sustainable energy studies
The Centre for Renewable and Sustainable Energy Studies (CRSES) at Stellenbosch University enables a sustainable future for Africa through world-class renewable and sustainable energy research, advisory services, awareness campaigns and training programmes.
Thermodynamics and Fluid Mechanics

The Thermofluids division is one of three divisions in Stellenbosch University's Department of Mechanical and Mechatronic Engineering. Our work is largely located in the Department's "Energy and the Environment" theme. Our division is equipped with extensive computing and experimental testing facilities  which enable research and development work over a wide range of relevant fields.