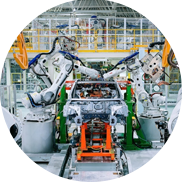 This group is researching diverse mechatronic systems such as reconfigurable manufacturing systems, unmanned aerial vehicles, robots and medical devices. The research includes development design methodologies for such systems. It finds applications in automation of assembly systems, inspection and quality control using machine vision, reverse engineering, micrometrology and calibration and maintenance of heliostats for concentrating solar power systems.
Mechatronics, automation and design
The Mechatronics, Automation and Design (MAD) research group forms part of the Department of Mechanical and Mechatronic Engineering at Stellenbosch University. The MAD group operates under theleadership of Prof Anton Basson and Dr Karel Kruger. The group conducts research in the well-equipped Automation Lab
The MAD research group has been active since 2008, primarily conducting research in the field of modern manufacturing systems. The research focused on reconfigurable and holonic manufacturing systems. Recently, the research focus has shifted to the design and implementation of Digital Twins to enable Industry 4.0 in South Africa.