The Faculty of Engineering was established in 1944 with three engineering departments of which Mechanical Engineering was one.
In 2006 the name of the Department changed to that of Mechanical and Mechatronic Engineering, because the department is the home of the Mechatronics programme since 2001.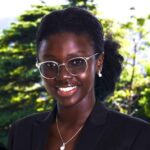 In June we celebrate International Women in Engineering Day
Don't miss our Feature article on postgraduate student, Fama Jallow.
Are you interested in science and technology? Are you innovative and self-motivated? Do you have an above average mathematics aptitude and are you a strong rational thinker? These qualities are ideal if you want to choose Mechanical Engineering or Mechatronic Engineering as a career.
Mechanical engineering is characterised by the field's involvement in structures, motion and transfer of energy.
Read more about our Mechanical Engineering programme here...​
Mechatronic engineering is a new focus area in engineering that promises to become even more important in the future, both in South Africa as well as internationally. With automation as the current key to productivity, the need for mechatronics (which makes it possible to generate simpler, more economical, reliable and versatile systems) increases by the day.
Read more about our Mechatronic Engineering programme here...​
See the Mechanical & Mechatronic Engineering Department, campus and surrounds