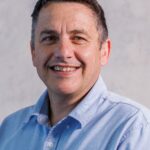 As a young boy Johan grew up all over South Africa. He received the most important part of his high school education in Villiersdorp in the Boland. His family home was in Franskraal, Gansbaai since 1978 (where he says you do the white shark cage diving). "Consequently, the one thing that I can still do well today is crayfish diving – but I do not poach!" he quips.
Asked about his decisions for studying after school, he says, "When I had to decide what to study, I had to choose between medicine, civil engineering, or mechanical engineering. I really loved (still love) aeroplanes, so I chose mechanical engineering. I found that having a strong conviction about what I wanted to do, carried me through the difficult times in second and third year especially."
We can attest to our chairman being a man of strong conviction before he acts. He is attuned to progress and helpful in leading his team members especially through difficult decisions making. As a department we draw certainty and confidence from him. Johan, even in his role as Chairman of our department, stands out as a colleague and friend to staff and students. He is always available, and if not, he will make special effort to avail himself. It is not easy to keep up with him as he does not disappoint anyone who wishes to engage with him, be it for research or just a catch-up over coffee about the weekend's sport.
He says, "As an interesting aside, I could not get a bursary to study, and I almost decided to give up on my study plans. However, a friend who had just finished his civil engineering degree convinced me to persevere. After my 1st year I was able to get a bursary from one of the big mining companies in South Africa. Consequently, the mining industry also holds a special place for me, and I spent the first two years of my career crawling around in mines and smelters. Besides mining, I also worked in the petrochemical and automotive industries. In essence, although I never got to work in the aerospace industry, I realised that the world of engineering is so immensely wide that there is something in almost every avenue that I find interesting."
"After eight years in industry I came back to Stellenbosch in 2006, primarily because I enjoy working with students. My work is specifically focussed on turbomachinery but once again the field is so wide that I often find myself working with energy systems and structural mechanics and even instrumentation and control. And yes, after many years I am working in the aerospace field through my involvement with ISABE (the International Society for Air Breathing Engines)."
Professor van der Spuy ends off with a special word of encouragement which speaks of his passion and understanding of young students, "If I can give the young students and future engineers any word of advice, it would be to pursue your dreams with vigour but to remember that the most obvious avenue to achieve your dreams is not always the most interesting one!"