The Faculty of Engineering was established in 1944 with three engineering departments of which Mechanical Engineering was one.
In 2006 the name of the Department changed to that of Mechanical and Mechatronic Engineering, because the department is the home of the Mechatronics programme since 2001.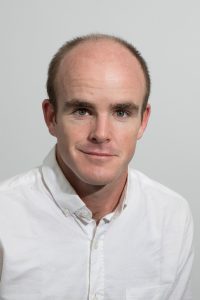 Congratulations to Dr Mike Owen on achieving a Y1 NRF rating, an accolade given to promising young researchers.
The rating of individuals is based primarily on the quality and impact of their research outputs over the past years, taking into consideration the evaluation made by local and international peers.
Dr Owen's research to date has focused on the performance of large air-cooled condensers for thermal power plants. He has investigated both the air-side and steam-side performance of these systems using computational fluid dynamics (CFD). He therefore has expertise in the fields of fluid dynamics, CFD, heat transfer and thermodynamics.
Currently he is also pursuing research in the fields of wet and hybrid cooling and solar thermal energy, as well as fluid dynamics relating to high performance racing yachts and para-gliders. In addition, he is extremely interested in the fields of renewable energy, innovative energy systems and energy efficiency.
Are you interested in science and technology? Are you innovative and self-motivated? Do you have an above average mathematics aptitude and are you a strong rational thinker? These qualities are ideal if you want to choose Mechanical Engineering or Mechatronic Engineering as a career.
Mechanical engineering is characterised by the field's involvement in structures, motion and transfer of energy.
Read more about our Mechanical Engineering programme here...​
Mechatronic engineering is a new focus area in engineering that promises to become even more important in the future, both in South Africa as well as internationally. With automation as the current key to productivity, the need for mechatronics (which makes it possible to generate simpler, more economical, reliable and versatile systems) increases by the day.
Read more about our Mechatronic Engineering programme here...​
A beloved member of our staff, Prof Thomas Harms, will be retiring at the end of the 2019 academic year.
We heartily thank Prof Harms for his contribution through the years. His presence at the office will be missed and we wish him many happy years in retirement.
Prof Hugo Gabele hails from Hochschule Esslingen, University of Applied Sciences, Germany, in the Faculty of Automotive Engineering. His main areas of expertise are design, technical mechanics and combustion engines. His most recent area of work is the development of electrically powered light vehicles.
In history, "development" can be described as a chronological series of events and meetings which fall into place like they are meant to be. This is significant because when Prof Gabele enquired from his ex-student, Matti Lubkoll, about Stellenbosch University as a suitable destination for a sabbatical, a series of events lead to him finding himself in the right place at the right time. This coincidental meetings with people materialised into a three month sabbatical for him and the development of a project, "STEM Cycling".
STEM (Science, Technology, Engineering and Mathematics) Cycling, which aims to bring awareness to young people from especially less advantaged backgrounds, introduces the characteristics of these academic disciplines while using familiar material (the bicycle) in a sensitising, practical way. The material, its history, components and mechanics allow practical learning, while the background, age of scholars and the conditions under which teaching and learning are taking place are considered. Together with Carinus Lemmer (a former racing cyclist from Stellenbosch) and Gronum Smith, the three have collaborated and researched to demonstrate that learning, and the way young people are taught about these academic disciplines, are equally important.
We wish Prof Gabele a successful, yet relaxing sabbatical at Stellenbosch University and thank him for the valuable contribution he is making to South African teaching and learning.
See the Mechanical & Mechatronic Engineering Department, campus and surrounds