The Faculty of Engineering was established in 1944 with three engineering departments of which Mechanical Engineering was one.
In 2006 the name of the Department changed to that of Mechanical and Mechatronic Engineering, because the department is the home of the Mechatronics programme since 2001.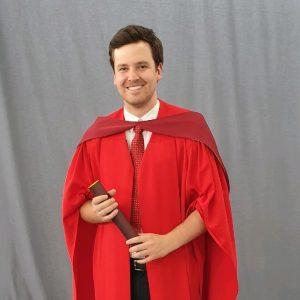 As part of his recently completed dissertation, Dr Jean Gerard de la Bat's article was accepted for publication in Applied Energy. Applied Energy provides a forum for information on innovation, research, development and demonstration in the areas of energy conversion and conservation, the optimal use of energy resources, analysis and optimization of energy processes, mitigation of environmental pollutants, and sustainable energy systems.
Jean's paper outlines the theoretical modelling and testing of a prototype free-piston Stirling electrical generator, developed in-house at Mechanical & Mechatronic department. Co-authors are R.T Dobson, T.M.Harms and A.J. Bell
Article: https://www.sciencedirect.com/science/article/pii/S0306261920300970?dgcid=author
Are you interested in science and technology? Are you innovative and self-motivated? Do you have an above average mathematics aptitude and are you a strong rational thinker? These qualities are ideal if you want to choose Mechanical Engineering or Mechatronic Engineering as a career.
Mechanical engineering is characterised by the field's involvement in structures, motion and transfer of energy.
Read more about our Mechanical Engineering programme here...​
Mechatronic engineering is a new focus area in engineering that promises to become even more important in the future, both in South Africa as well as internationally. With automation as the current key to productivity, the need for mechatronics (which makes it possible to generate simpler, more economical, reliable and versatile systems) increases by the day.
Read more about our Mechatronic Engineering programme here...​
Leo Mc Nally graduated in 2014, Mr Peter Blaine supervised his final year project.
After graduating Leo furthered his interest and patented "The Cargo Strap Manager (CSM)", a clever device which easily attaches to a cargo strap to ensure that cargo is secured at all times. The benefits of this device include the prevention of cargo load shifting accidents, reduces the risk of loss and theft, GPS tracking for loading and unloading and warns the driver of an increase or decrease in the tension of the strap. The logo of his spin-out company is "Secure your cargo with certainty".
This innovation makes us proud and we wish Leo Mc Nally many years of ensuring our safety and securing cargo.
Our classes have started and we've kicked off in fine style. Our new postgraduate students attended the Robotics 814 block course and had the pleasure of being lectured by Prof. Dr. Eng. Christoff Wree, a visitor from Germany. Prof Wree is from the Dept of Electrical Power Engineering at Kiel University of Applied Sciences.
The course introduced processes and tools for the virtual commissioning of a Delta robot for pick-and-place applications. The virtual commissioning is done through the open PLC programming standard PLC Open, a Beckhoff TwinCAT 3 soft PLC and Unity3D. The process of virtual commissioning results in the creation of a digital twin of the robot, of which all the robot movements are executed by the simulated PLC and visualized through the Unity3D software.
See the Mechanical & Mechatronic Engineering Department, campus and surrounds